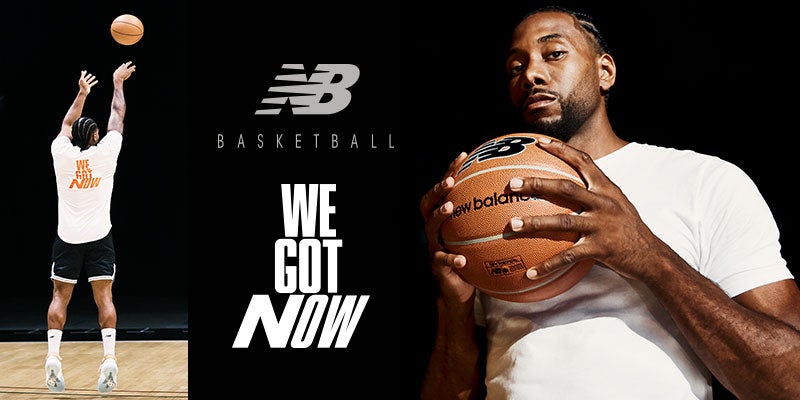 New Balance Basketball
Showing 1 - 9 of 9 results
Search Results
Perfectly Balanced
It's no secret: New Balance hit the jackpot when it partnered with Kawhi Leonard to mark its return to the world of basketball shoes. The collection includes a series of amazing kicks, all made with premium features and intricate detailing that set these shoes apart from the competition. Elements like flexible mesh uppers, reflective accents, stability-boosting midsoles, and shock-absorbing cushions also make them stand out from everything else in your closet. If you're ready to find the secret to your success and channel your inner basketball star, there's no better time than now.
Fearless Style
Just a glance at the collection is proof that these shoes are enough to pull anyone out of their comfort zone. They're fierce and stylish, with bold colorways that feature fiery overtones on beds of black. The effect is sharp — the perfect tone to set as you make your way across the basketball court and breeze past your opponents each and every time.
Their high-style designs make them perfect for mixing and matching with your favorite New Balance apparel. Throw on a relaxed T-shirt bearing a Kawhi Leonard graphic or a hoodie or sweatshirt featuring the brand's iconic logo. Step into a pair of easy shorts or comfortable joggers or sweatpants and you'll be ready to handle anything that comes your way, whether you're knocking items off your to-do list or making a statement on the court.
In the Details
It's all about the details, and New Balance doesn't skimp where those are concerned. The eye-catching 850 is a study in perfection, featuring technical advancements that lend it that extra something special. ABZORB technology provides superior support and protection, while the ROLLBAR medial accent enhances stability. If you're a nighttime runner or player, then the reflective accents will brighten your presence on the ground and make sure you're seen.
Need something with a little extra comfort? The 997 Sport is a favorite for its multiple-foam construction, designed specifically to nestle your foot in constant softness. Another to watch is the OMN1S, a shoe designed to accommodate your needs both on and off the court. It's all about support, style, and stability — three factors that dominate the entire collection of New Balance basketball shoes.  
Related Pages
Check out our other selections