Curbside Pickup
Curbside Pickup

Pay, park, and pick up!
We set up curbside pickup stations at select stores in the New York and Los Angeles for safe pick up.
That means you can get your kicks faster while practicing social distancing.
A win-win for all.
How it works
The process is quick and easy – just like our buy online, and pick up in store service.
Order online
Choose the "buy & pick up in store" option on our product page.
Check your inbox
We'll send an email when your order is ready for pick up during store hours.
Pick up
When you arrive at the store, look for the station. Don't worry, we'll have plenty of signs to guide you. A team member will be there to complete the process.
Please bring the following:
A valid photo ID (like a driver's license or passport)
Your "pick up is ready email" (show on a mobile phone)
Please note we currently don't accept returns at these stores.
Look for these signs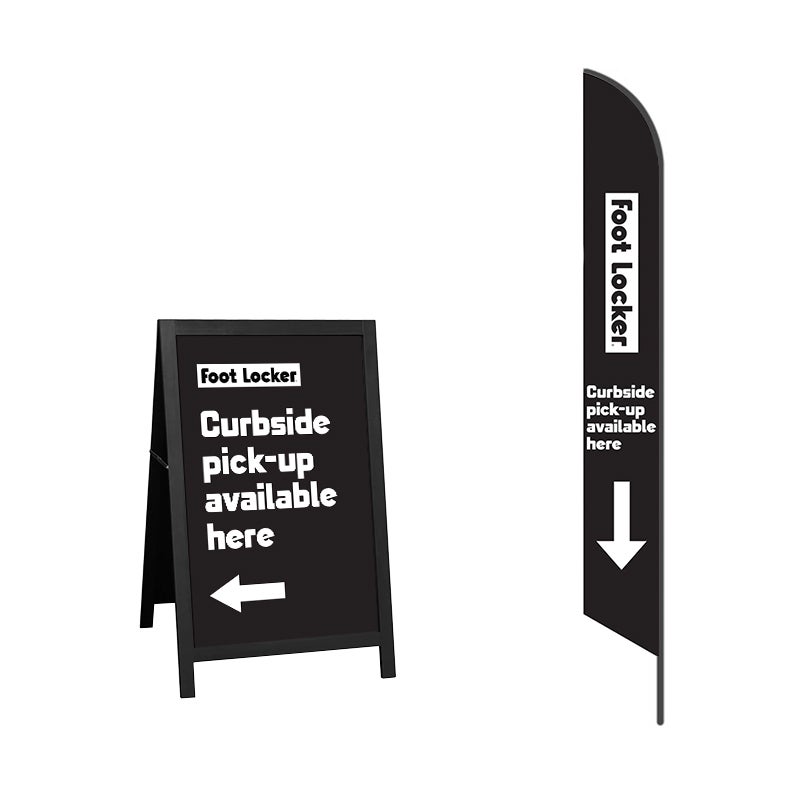 Find your store
At this time we offer curbside pickup stations at these New York and Los Angeles-area stores. Please check our store locator page for current store hours before visiting us to pick up your items.
Los Angeles area
Foot Locker - Market Place
3501 W. Century Blvd. Suite A
Inglewood, CA 90303
Foot Locker - Melrose
7726 Melrose Ave.
Los Angeles, CA90046
Foot Locker – Pasadena
58 W. Colorado Blvd.
Pasadena, CA 91105
Foot Locker - Santa Monica
301 Arizona Ave.
Santa Monica, CA 90401
Foot Locker - Sylmar
13711 Foothill Blvd.
Sylmar, CA 91342
New York Area
Foot Locker - Brooklyn
1268 Fulton St.
Brooklyn, NY 11216
Foot Locker - Bronx
60 W. 225th St.
Bronx, NY 10463
Foot Locker - Bronx
2886 3rd Ave.
Bronx, NY 10455
Foot Locker - Flushing
40-13 Main St.
Flushing, NY 11354
Foot Locker - Garden City (Roosevelt Field)
630 Old Country Road, Space 1124B & 1154
Garden City, NY 11530
Foot Locker - New York
150 E. 42nd St.
New York, NY 10017
Foot Locker - New York
34 E. 14th St.
New York, NY 10003
House of Hoops By Foot Locker
268 W. 125th St.
New York, NY 10027
Foot Locker - New York
1460 Broadway
New York, NY 10036
Foot Locker - New York
605 W. 181st. St.
New York, NY 10033
Foot Locker - New York
159 E. 86th St.
New York, NY 10028